Cubicle, Sweet Cubicle: What You'll Find in the IT Service Professional's Cube
For some reason, nobody has made a documentary about observing the IT service desk professional in her natural habitat: the cubicle. But although each IT professional brings something unique to his or her workspace, there are things that all IT help desk cubicles have in common, and there are things that all of them should have to mitigate health risks, like carpal tunnel syndrome. Here are some of the things you'll find in the IT service professional's cube.
Decent Furniture, Hopefully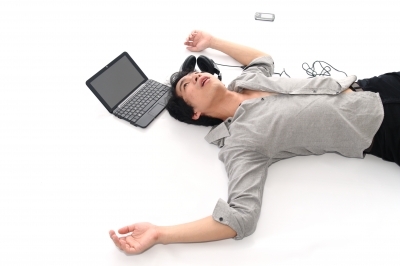 Sadly, Andrew was absent the day ergonomic furniture was handed out.
Ideally, every office professional should have an ergonomic chair and a keyboard positioned at the correct height. This helps prevent neck, shoulder, and back pain, and helps prevent repetitive motion injuries like carpal tunnel syndrome.
Strategic Supplies
Many IT professionals have computer cables and a few toner cartridges squirreled away, because there are cases when it's simply more expedient to take someone a cable than to requisition one, particularly on a problem with a short fuse. If you do this, you know the value of absolute secrecy about it. Otherwise people will think of you as "Sid, aka The Supply Cabinet."
Phone Numbers
A surprising number of IT help desk professionals have a list of phone numbers posted above their monitor, and these phone numbers may have nothing to do with IT service provision. When phoning the help desk is standard operating procedure, people tend to blur the lines between "IT service professional" and "Directory Assistance." Plenty of service desk pros find that simply having a list of numbers handy has less of a negative impact on call times than explaining why you don't have them.
A List of Quick Fixes
You might see a list of simple "How-Tos" above the IT pro's desk. Ideally, these quick fixes would go on a self-service portal or into a knowledge base; but if the help desk doesn't have these features, having them posted in plain sight can speed things along.
An Org Chart
Org charts may seem useless in some departments, but in IT, a list showing which technicians are responsible for which functions is extremely useful. This chart will also show things like which person to route a ticket or call to if the problem needs to be escalated. In an ideal world, the help desk software would show you this information, but many service desks still rely on the printed org chart.
Pen and Paper

A shredder can be useful if you tend to illustrate your emotions while at work.
You might not think the humble pen and paper would be of much use to the most technologically-advanced department in many organizations, but you would be wrong. Even if you're wearing a headset so you can type two-handed, a notepad and pen come in handy for diagrams, notes, and the occasional unflattering doodle that would probably get you fired if you didn't destroy it at the end of the day.
List of Useful Websites
A lot of help desk pros keep a handy list of websites for hunting down answers to problems. Though they use Google frequently, sometimes the Microsoft Knowledge Base or Tom's Hardware can answer questions, and a list of useful sites can make tracking down answers to non-standard problems quicker.
Calendar
A corporate calendar is standard in many IT cubicles, to avoid missed meetings and to know who is going to be away on vacation when. It's important to know that when Lauren is on vacation for a week, you're supposed to direct her tickets or direct calls to Pablo instead.
You might expect a cornucopia of nerdy toys or posters in the IT worker's cubicle, but IT workers are only slightly more likely to have a functioning light saber next to their desks than other professionals. You will find the standard coffee mugs, the occasional empty chip bag, and more than likely a few pictures of loved ones to make them smile and remind them why they spend 40+ hours a week fixing printers, running cables, and resetting passwords.
Samanage provides outstanding IT service management software for the IT service desk and IT asset management. With features like easy knowledge base building and self-service portals, Samanage makes IT service delivery as seamless and efficient as possible.
Photo Credits: Phaitoon / freedigitalphotos.net, photoraidz / freedigitalphotos.net
About Taylor Burgess
Read more articles by Taylor
---