Don't Try These Pranks at Work if You Value Your Job
Harmless office pranks can break up tedium and make the workplace a little brighter. Pretty much everyone has been on the sending or receiving end of the Rickroll, and office "makeovers" while occupants are away are a staple of sites like Buzzfeed.
But unless you want to sit outside with a "Will fix computers for money" sign, some pranks (like switching the CEO's keyboard from QWERTY to "Dvorak" style) should be avoided.
Here are some pranks that you should stay away from if you want to remain among the gainfully employed.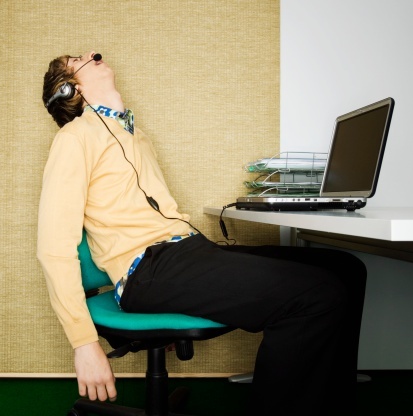 Did you surreptitiously replace the coffee with decaf? You monster!
Altering the Cursor Icon
How could making a seemingly tiny change to a cursor icon wreak havoc in the workplace? By changing the normal cursor to the "busy icon" cursor – you know, the rotating blue circle that means you need to cool your heels while your computer catches up to your lightning-fast fingers. While you might get away with this with the new grunt-level employee, trying it on someone higher up the food chain (or more indispensable) than you are could land you in hot water.
Messing with "That Employee's" Mind
While there's nothing wrong with imagining all manner of calamity befalling that coworker you're not crazy about, actually doing something about it can backfire spectacularly. There's an apocryphal story (probably several, actually) about some office pranksters getting back at an annoying coworker by placing a personal ad with the disliked coworker's phone number. The resulting spike in creepy phone calls apparently prompted the prank victim to notify police, who didn't take a kindly view of the situation and invoked identity theft laws against the perpetrators.
The Desktop Screenshot
This is an old prank, but it has persisted because it's so darned effective. All you do is take a screenshot of the prankee's desktop, set it as their background, then hide the taskbar and desktop icons. You can up the cruelty level by gathering all their desktop icons into a folder rather than going into settings and un-checking "Display Desktop Icons." The technically savvy among you have no doubt heard of or experienced this prank, but to a technophobe, this is definitive proof that computer technology is evil and must be destroyed. Try this on someone in middle to upper management and you could be getting a pink slip without going anywhere near a Victoria's Secret.
Hijinks with the Task Scheduler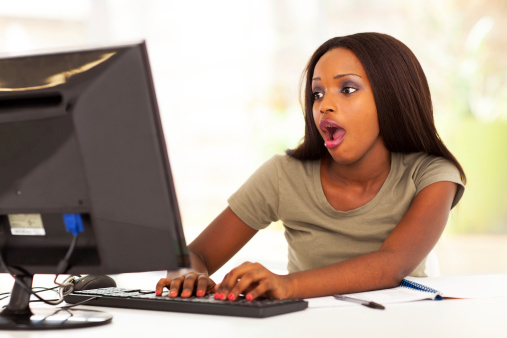 "Why is there a pug licking my screen from the inside every day at 10:07?"
Know someone who uses their Task Scheduler all the time but only knows the basics about how it works? The "wizard" function makes it easy to "schedule" things like programs that start running apparently at random, or useless web pages that pop open unexpectedly. Again, it's funny if it's done to a workmate who can let these things slide, but if someone's giving a presentation on a potentially lifesaving new medical technology that's suddenly interrupted by the 24-Hour Cat Channel, get out the butter and jam, because you're toast.
Various AutoHotKey Pranks
If you don't know, AutoHotKey is an app that lets you create shortcuts for things like making a virtual number pad, doing a universal search and replace, or typing long strings of text or numbers by pressing a couple of keys. It's really handy, and has a short learning curve. However, AutoHotKey can be used for evil. It's not that hard to put together a little script to induce visual flickers or sounds. And you know how on an iPhone or Android you flick to scroll like you were using your fingers to move a piece of paper, but when you scroll on your computer it's the opposite? Well, you can use AutoHotKey to  make scrolling on a computer go backwards and make the user think he or she is going mad.
Initiating the New Guy
Sending the new person on a fool's errand to fetch a left-handed wrench, a new bubble for the spirit level, or white ink for the inkjet printer is old hat. The newcomer is "initiated" and waits to inflict similar minor trauma on the next new-hire. It's the circle of life. But sometimes initiations go too far. Nearing the end of her probationary status with Southwest Airlines, one customer service agent found airport officers at her kiosk saying they had a warrant for her arrest. She was then handcuffed and led away in what was actually an elaborate prank by coworkers. Soon as the cuffs were removed, however, she was dialing her lawyer and successfully suing for false imprisonment. Seriously: stick with asking for router fluid when it comes to pranking new people.
About Nathan Riley
Nathan Riley is a Sales Director, ITSM at SolarWinds. He has nine years experience in the industry, and has had a front row seat for the evolution of service management as a platform for the entire organization. He helps organizations ranging from SMB to Fortune 500 bring customized service to employees. Nathan proudly served the United States Armed Forces in the United States Marine Corps.
Read more articles by Nathan
---