Friday Fun: 5 Ways We Wish We Could Use the Internet of Things
By 2015, an estimated six and a half billion devices will be connected to the Internet, including over six million cars and 260 million televisions. We're just beginning to imagine the many ways the Internet of things (IoT) could be used to affect day-to-day life.
From the time we wake up, we could expect fresh coffee from our smart coffeemaker, lighting in our bathroom that emulates the weather we'll face outside, and a car that lets us know we need to buy gas, but we have time because our train is going to be late.

The IoT also gives rise to less-than-chivalrous imagined uses, and in fact could become a passive-aggressive utopia for those who want more and easier ways to mess with people. Not that you would ever do such a thing, but sometimes it's nice to dream about letting technology put people in their place while you sit back and spectate. Here are some ways the darker recesses of our souls wish they could use the Internet of things.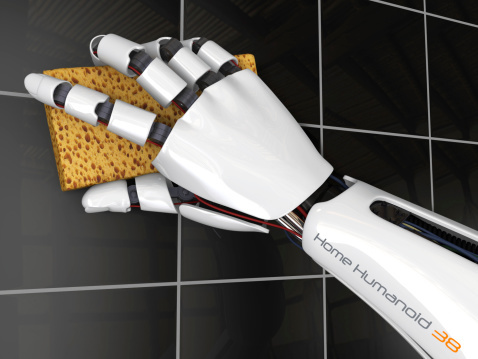 Ironically, you can never "fire" the bathroom robot. It knows too much.
1. The Evil Genius Copier
Someday when our smart work badges communicate automatically with the copier to let it know we're authorized to make X copies per month, someone will figure out a way to monkey with the copier settings when a certain officious employee shows up to print a set of capricious and onerous break-room refrigerator rules. Perhaps a washed-out streak will appear down the middle of all this hapless user's copies – an anomaly that is never reproduced on anyone else's copies, so that his copier complaints only make him look even more unhinged.
2. The Restroom Hand Dryer as Savior
We've all been there. You're washing up before exiting the restroom when boom! In walks your boss (whom you're on a tight deadline for), or the woman whose kid needs a million Likes on Facebook to win a bike, or the guy with a sideline selling protein powder in a questionable multi-level marketing scheme. With the smartwatch of tomorrow, your stress levels are automatically being broadcast to the smart hand dryer, which has been instructed to roar at a high decibel level for a long enough time to prevent commencement of what is sure to be an awkward conversation. As a bonus, you look particularly devoted to good hygiene.
3. Revenge Coffee
Every office has one: the person who takes the last cup of coffee without starting a new pot, forcing the next person to wait around for his caffeine fix while another pot brews. With smart coffee pots connected to the IoT, the person who never makes a new pot could be flagged. Whenever she tries to pour a cup, the top of the pot seals shut and the nefarious wrongdoer is forced to drink from the decaf pot until she mends her ways.
4. Office Sports Officiating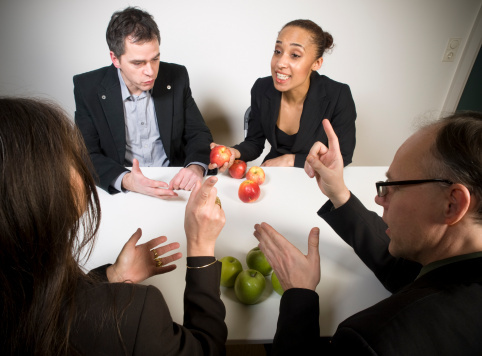 "All I'm saying is if that umpire had one more eye, he'd be a Cyclops."

Somehow your HR department has inadvertently cobbled together a workforce roughly equally divided between Yankees and Red Sox fans, and the resulting water cooler conversations are putting a strain on baseball fans and non-fans alike. Imagine a world where everyone wears an advanced smartwatch that monitors the dopamine and testosterone levels of the wearer. Once levels reach critical mass, the watch could go on alert for trigger words like "inning," "splitter," and "no way was that jerk safe." Once the trigger words were uttered, the smartwatch would automatically cause the offender's cubicle phone to ring loudly, painlessly extracting him from the conversation and letting innocent bystanders go on about their days.
5. Shutting Down the "Reply All" Abuser
Let's be honest: there are people who abuse the "Reply All" button and need to be punished. Maybe they replied to everyone included in the email requesting meeting RSVPs, as if everyone needed to know they'd be there. Or maybe they're always including everyone when they only have a question for the person who sent the mass email. With the IoT, when the Reply All abuser logs in, the machine could be configured so that clicking the Reply All button delivers a painful, but harmless shock. Or perhaps the person could be assigned probationary status, and would have to make the walk of shame to ask permission from his or her supervisor before being authorized to use Reply All on a case-by-case basis. 
About Adam Shearin
Adam is an accomplished sales professional with over six years of experience working with mobile applications and cloud-based IT service desk and asset management solutions. Experienced working with a broad range of clients from SMB to Fortune 500, Adam clearly and confidently knows how to best articulate the benefits of multi-tenant SaaS-based ITSM/ITAM software. Adam's service management expertise isn't limited to IT and transcends departments organization-wide, bringing a new level of efficiency and processes to departments that once relied solely on spreadsheets and emails.
Read more articles by Adam
---