Friday Fun: 8 Google Autocompletes That Can Brighten a Tough Day at Work
Every time you Google something (and IT professionals Google a lot of things), you're unknowingly shaping the massive hivemind known as Autocomplete. The Autocomplete algorithm takes in nearly six billion searches every day and uses them to "learn" to predict future searches.
It helpfully offers up suggestions every time you start typing in a query.
This is great if you're not sure how to spell a word, or how to word a query. But you can't turn Autocomplete off, so every time you search, you get a glimpse of how others use search. Sometimes it's enlightening, and sometimes it's just scary and weird. Here are 8 examples of Autocomplete going off the rails.
1. Google Knows What We Hate Most
Maybe someone's computer has malware on it and you're not quite sure the best way to get rid of it. When you ask Google, you could be presented with a litany of the things people hate most (from PC Magazine):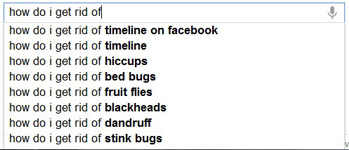 If you think of Autocomplete as an unscientific poll, you can see here that Facebook timeline is hated more than hiccups, bed bugs, fruit flies, blackheads, dandruff, and stink bugs.
2. What Is Google, Anyway?
The Google search engine is so vast, so flexible, so absorptive, that sometimes humanity pours its own meaning into it, turning it into a mysterious, colossal entity (from Cheezburger.com):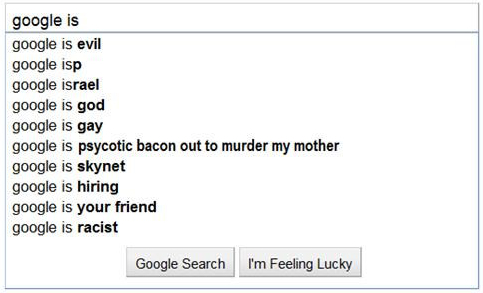 3. Why Can't I Do This?
Fixing IT problems is often a matter of finding out why you or someone else can't do something. Why can't I log onto the network? Why can't I print anything? But Google shows that people ask the big "Why?" questions about a lot of things. Things that make you wonder (from everywhereist.com):


4. Why Won't It Work?
Another big "Why?" question that is often applicable in IT is "Why won't the (device / program / software) work? All you want to know is why the USB port won't detect anything, and boom! You're hit with the big geopolitical questions of the day. Thanks, Google (screenshot):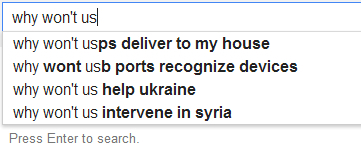 5. What Would Happen if I Did This?
Many people succeed in IT because they're not afraid to try stuff out. However, when you're dealing with hundreds of thousands of dollars' worth of infrastructure, sometimes you want to find out if someone else has boldly gone there before, so you can learn from their mistakes. Google shows you that people from every, um, situation ask this question (fromCheezburger.com):



6. Discovering You're Wearing the Ruby Slippers After All
Working on the IT service desk can get crazy busy sometimes. Maybe you go into robot mode, stepping through things methodically as a brute-force way of getting through a pile of work. But perhaps if you stopped to think about it, you'd realize you already know the solutions to some of those problems. You're not the only one who knows more than he thinks he does (from distractify.com):



7. Stumbling Upon Information that Could Save the World
If your company has a BYOD policy, maybe you've been approached by someone who has lost his iPhone – the one that had valuable company data on it. You own an Android, so you don't quite remember the procedure for putting a missing iPhone into Lost mode, getting into iCloud, etc. So you turn to Google and find something much more interesting than finding a lost phone (screenshot):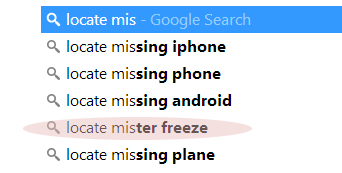 8. Could You Not Do That, Just This Once?
Alas, sometimes Autocomplete comes across like that annoying friend who blurts out the punchlines of your jokes for you and steals all your glory. Just once, couldn't Google just shut up and listen to what you have to say? No. No it cannot. (fromdistractify.com)



About Greg Ghia
Read more articles by Greg
---