Friday Fun: IT Service Workers and their Animal Spirit Guides
During an initiation or shamanic journey, a shaman would traditionally would associate with a particular spirit animal for guidance. Sure, you can take all kinds of online quizzes to determine your (or someone else's) animal spirit guide, but it's a lot more fun to assign them to your fellow IT workers based on perception (or spite).
Here are 5 types of IT workers and their associated animal spirit guides.
1. The Fox
Foxes are content to work behind the scenes, because working behind the scenes lets them pull the strings that cause the players on the stage to fly, drop, or crash into things. Perceptive and shrewd, the fox gets his or her entertainment from reading and manipulating other people's emotions, playing a weird tune that others are somehow forced to dance to. You might overhear a fox "helping" his customer with their psychological health: "Ooooooh, you want your password changed by tomorrow? [suspenseful pause] That's going to be tough. And with performance reviews coming up, you could really be hosed. Well, I suppose I'll see what I can do, but no promises."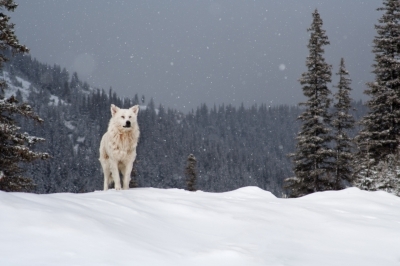 Howling at the moon is not recommended, no matter how permissive your workplace rules are.

2. The Owl
The owl is her own lie detector. Try to slip even the slightest inconsistency by this person, and you'll get caught. This is the IT worker you're amazed didn't go to law school, because shredding someone's testimony is what she loves to do most. You'll probably hear her cross-examining an end-user like so (wearing a knowing smirk): "So 'somehow' your machine has a virus? Funny, that virus is typically associated with websites that have 'xxx' in the domain. But I'm sure you would never visit such a website. By the way, how's that download torrent of "The Sopranos" going? Pretty quick with our bandwidth, I bet."
3. The Wolverine
The wolverine is a great person to handle your IT service desk ticket, particularly if you're fond of drill sergeants. He's smart, tough, and unafraid, and he's the best at whatever he does, setting super high standards. He also sets the same lofty standards for everyone else, however. You may overhear his half of a phone conversation, which might go something like this: "What's your default IP address? … What do you mean you don't know? Well, did you connect your WAN port to the internet source? … There's only one WAN port! Well, this is like beating my head against a wall. I'll fix it myself when I can shoehorn it into my schedule … OK. My love to grandpa. Bye."
4. The Llama

"So graceful and adorable. Must … befriend … Dude! Did she just spit on me?"
You had high hopes for this IT service desk worker at first. She's cute and downright cuddly looking. She has all the right certs, and five years of experience. Everyone who meets the llama immediately wants to hug her. But that's where they go wrong, because she will metaphorically spit on anyone who gets within a few feet of her. She's the one who says, while batting big, soulful eyes, "You don't know how to download a printer driver using the self-service portal? You must feel pretty stupid right now, but don't worry about it. Some people are just complete idiots with computers. Good thing I'm around or you'd probably electrocute yourself."
5. The Puppy
When this person showed up, he was exactly what your IT service desk needed. Always ready to do anything for anyone, he managed to successfully set the clock on the break room microwave that had been flashing 00:00 since 1996. When people are mean to him it only makes him double down on his efforts to please. You might hear him say, "So, it started with the company laptop, the diving board at the Reno Marriott, and a 32 oz. Roman highball? Believe me, we've all been there. Soon as I'm done picking up the CIO's dry cleaning, I'll be over to look at it personally. Can I get you some Starbucks while I'm out? … OK, sea salt caramel latte. And a chocolate scone. No prob."
You, of course, could run the service desk with little more than some string, a trained squirrel, and a bow and arrow. That's because your spirit animal is a cross between Susan Pevensie from The Chronicles of Narnia and Morgan Freeman as God in Bruce Almighty. But the IT service desk is usually a collection of different personalities, and they all (hopefully) bring something unique and valuable to the job. Provide them with leading ITSM software like Samanage, and they can let their skills and their unique animal spirit guides lead them to the solutions end-users want.
Photo Credits: Evgeni Dinev / freedigitalphotos.net, africa / freedigitalphotos.net
About Oz Merchant
Read more articles by Oz
---