New Year's Resolutions for the IT Service Desk
By: Matt Shanklin LinkedIn &nbsp&nbsp|&nbsp&nbsp
The year 2014 is here, and you're feeling positive. You only bought one game during the Steam Holiday Sale, and you avoided a repeat of The Copier Incident from the 2012 company Christmas party. While you're on a roll, it's a good time to make some New Year's resolutions, before the January weather and holiday credit card bills obliterate all sense of hope and goodwill. And it's not necessary to think on a grand scale. There are some years when resolving to make your bad decisions less bad is as good as it's going to get, but hey: it's progress!
Here are a few suggestions for IT workers for 2014 New Year's resolutions.
"I will learn to touch type."
You probably caught a lot of flak when you printed that break room sign admonishing people to "Stop using the shortcut by my cubicle as a through toad!" And when you put in an explanation to Travel that your company-issued tablet was "wrecked by the airport's x-rated technician" on the way home from the International Consumer Electronics Show in Vegas, you had some explaining to do. Learn to type already. It will make help ticket management quicker, prevent misunderstandings, and there are lots of free online typing courses.
"I will not declare email bankruptcy."
Letting your inbox accumulate hundreds or thousands of emails that you totally intend to get around to dealing with, but then eventually mass-messaging everyone to try again because you're deleting everything older than three weeks is a coward's way out. Turn off social media notifications and learn to make a filter to get rid of those annoying emails from your politically outspoken coworker where the subject line always starts out "FWD:FWD:FWD:FWD:" Then set aside time every single day to deal with the rest. It's the only way.
"I will ask for, and deal with the awful truth about myself."
Ask a couple of trusted coworkers – perhaps an underling and a supervisor, for balance – to tell you two ways you could improve professionally. You might be surprised (if a little hurt) by how simple they are to fix. For example, "I really hate how you say 'Aaaaaaaah' after every sip of soda" gives you something to work on, probably within the next hour. So does, "When you answer your phone, your tone of voice scares me."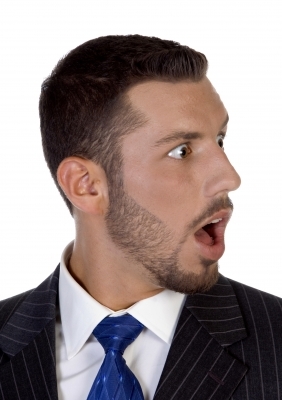 "But Vladmir, I only call you 'Cupcake' because I thought we were bros."
"I will play Wii tennis every time I skip the gym."
This is a great New Year's resolution. Of course, it also may include the sub-resolutions of "I will learn how to play Wii tennis," "I will buy a copy of Wii tennis," and "I will buy a Wii," but you definitely have the right idea.
"I will always write '2014' instead of '2013' as the date."
Here you go. This is something you actually need to do, and it's not that hard. Furthermore, you basically get an entire month of mulligans with this one, because everyone writes '2013' in date blanks during January. But by June, you'll be writing '2014' like a boss, and for that you can be proud.
"I will have better posture."
You can only realistically place so much blame for your aching back on your office chair. What's more, convincing someone in Purchasing to score you a better one usually doesn't work, no matter how charming you are. Therefore you need to work with what you have. Whatever adjustments your chair allows, make sure they're right for you. Get a foot rest to go under your desk. Get a lumbar support to attach to the chair back. They start at under $20. And for heaven's sake, learn to sit up straight. Here aresome tips for improving your posture.
"I will stop drinking coffee and only drink wa – "
OK, nobody can finish that sentence with a straight face. Good luck and godspeed!
Photo Credits: imagerymajestic / freedigitalphotos.net, imagerymajestic / freedigitalphotos.net
About Matt Shanklin
Read more articles by Matt
---