Traditional Safety Signs Adapted for the IT Department
By: Matt Shanklin LinkedIn &nbsp&nbsp|&nbsp&nbsp
Workplace safety, of course, is no laughing matter, because people do get hurt at work. Fortunately, IT service desk workers don't face the physical hazards that, say, a longshoreman or firefighter faces.
However, many commonly used safety symbols are vague enough that they're open to interpretation.
Here are a few examples, adapted for the IT department.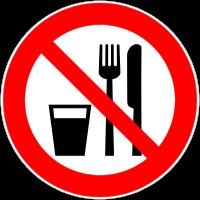 Who are you with your fancy fork, knife, and glassware? Expecting the Queen of England to drop by the IT service desk for tea today? Food consumed in the IT department is strictly limited to that which can be consumed by hand or directly from a can or bottle. Though it's not mandatory, foods are expected to have at least one "ingredient" in the name spelled incorrectly on purpose, like "cheez" or "froot."
Image: Public Domain

If your legs should happen to catch on fire and you're located in the IT department, well, good luck to you. You might as well sit down right there on the floor, because the closest IT service desk worker will simply remain behind his desk, watching the drama play itself out.
Image: Dutch Health and Safety Signs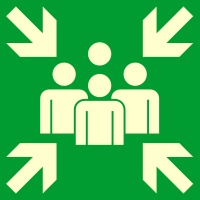 Sure, we all socialize on the job sometimes. Maybe you're trying to see who wants to go out for lunch, or discussing the meaning of the latest episode of "Game of Thrones." And sometimes you simply want to catch up with everyone after a long weekend. That's fine. All we're saying is, if your posse is going to hang out with the disembodied head, it will draw attention, possibly unwanted.
Image: Public Domain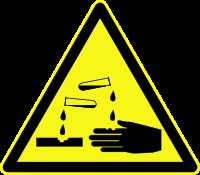 You can tell people the rules all day long, and some of them just won't "get" it. That's why sometimes people have to learn lessons the hard way, as this sign shows. Should a rather cavalier attitude about the effect of corrosive liquid spills on IT equipment take hold, rules will require that if you dump hydrofluoric acid (or any other corrosive liquid) on your workstation, you have to pour some of it on your hands afterward, so the lesson about ruining equipment will be permanently ingrained.
Image: Public Domain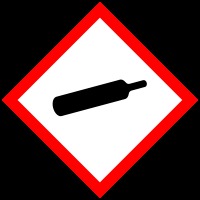 While not a lot of actual baking goes on in most IT departments, it's important that when it does, people know what kind of equipment is available. This sign clearly indicates that the IT department's rolling pin only has one handle, rather than two, so rolling out that pastry is going to be a bit more of a chore than people perhaps expected. Forewarned is forearmed, as they say.
Image: Public Domain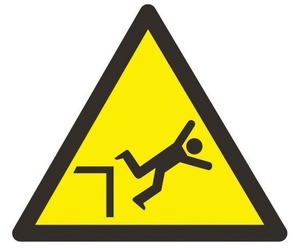 We all have to work together, and since you're going to be spending at least one-third of your life in the workplace, you have to learn to get along with others. Everyone is expected to put up with a certain amount of incompetence, but a line must be drawn somewhere. This sign is a warning that, should you burn a bag of popcorn in the IT department break room, you will be thrown off the loading dock as punishment.
Image: Public Domain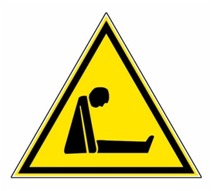 Finally, even the best, most productive employees make mistakes. But occasionally a person will make a mistake so ridiculous, so boneheaded, that everyone is left speechless. Did you really think it would be funny to put decaf into the department coffeemaker? Did you get so carried away with your imaginary light saber dance that you knocked over a rack of servers, taking half the company offline immediately? This sign is for you, because when you mess up this big, you need to apologize, and then sit and think about what you've done.
Image: Romainletourneur / Creative Commons Attribution-Share Alike 3.0 Unported
When you provide your IT team with leading IT service management software, like Samanage, you can be confident they have the IT service desk and IT asset management tools they need to keep your organization's IT ecosystem running in harmony. Furthermore, Samanage has no sharp edges, no dangerous fumes, and won't create a tripping hazard from software boxes left lying around, because it's all hosted in the cloud.
About Matt Shanklin
Read more articles by Matt
---