What Time of Day is Your IT Help Desk Swamped?
Ask some IT service desk workers when their phones are quiet, and they may angrily mutter a phrase containing the words "…freezes over." Busy is a relative concept, and for many service desks, quiet times are times "without users squawking at me to fix things like a tree full of parrots on nitrous oxide," as a thread participant on the online community Spiceworks.com put it.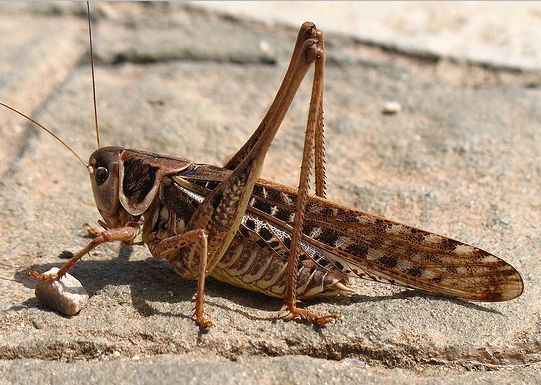 If you hear these at your IT service desk, you forgot to go home for a holiday or the phones are down.
However, busy and quiet times do show certain trends, based on day of the week and time of the day. A 2010 study, led by Impact Technologies, looked at phone traffic to network managers and found that Tuesday afternoon from 2 to 3 p.m. was the busiest hour among 323 phone systems in the companies that were surveyed. Anecdotal evidence also shows Tuesday afternoons to be busy.
Busiest Times for IT Service Desks
The busiest weekdays for IT service desks are typically Mondays, Tuesdays, and Thursdays. The busiest hours tend to be 8 to 9 a.m. and 2 to 4 p.m., with a lull around lunchtime. However, with university IT help desks, this pattern is inverted, with the majority of calls coming between 10 a.m. and 3 p.m. University help desks are, as expected, most swamped in August, when everyone is gearing up for the new school year.
Least Busy Times for IT Service Desks
As for the (relatively) quiet periods for IT service desks, the margins at the very beginning and very end of the day are quietest. Anecdotal reports indicate that the very first hour of the day and the very last hour of the day are generally tranquil. This seems to be particularly true on the first hour on Monday (unless it's the Monday after a holiday) and the last hour on Friday (particularly if it's the Friday before a holiday). The lunch lull is more pronounced depending on how strictly employee lunch periods are scheduled.
But while late afternoons on Fridays are generally less busy, the calls that do come in at that time tend to be more frantic, as someone discovers a problem that they need cleared up before the weekend.
The following chart spells it out for you: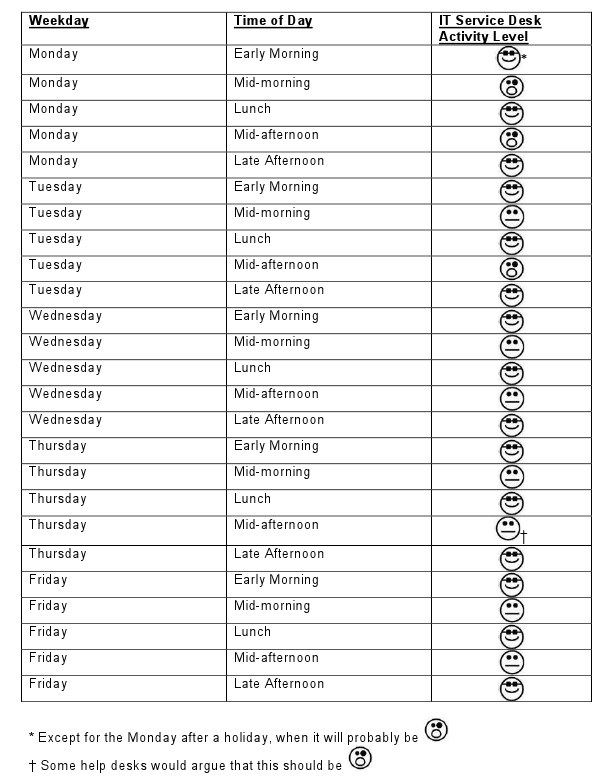 Working the IT service desk can be unpredictable. One thing is certain, however: if you have excellent service desk software, you'll get through those frantic times easier and quicker. The best service desk software has great features, like automatic ticket routing to the least busy technicians, instant incorporation of resolved tickets into a knowledge base, and customizable user self-service portals, which can prevent calls altogether by helping users solve their own problems. And when you get service desk software as a service (rather than running it on your own servers), you're always certain that you're using the most up-to-date version with all the latest features.
What are your busiest and least busy times? Feel free to share your stories in the comments section.
About Adam Shearin
Adam is an accomplished sales professional with over six years of experience working with mobile applications and cloud-based IT service desk and asset management solutions. Experienced working with a broad range of clients from SMB to Fortune 500, Adam clearly and confidently knows how to best articulate the benefits of multi-tenant SaaS-based ITSM/ITAM software. Adam's service management expertise isn't limited to IT and transcends departments organization-wide, bringing a new level of efficiency and processes to departments that once relied solely on spreadsheets and emails.
Read more articles by Adam
---