You Called Me What? 3 Real-Life Examples of IT Help Desk Abuse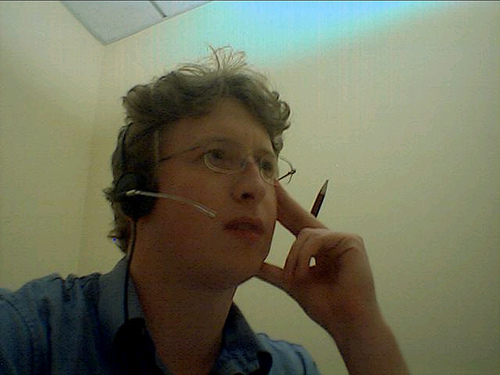 "I didn't even know that word existed in the English language."
As one IT veteran put it: "Help desk work would be fantastic, if it weren't for the help desk part." We've all been there: dealing with users who are impatient, unreasonable, and often downright abusive.
Here are three examples of some of the worst situations that an IT service desk worker can experience — along with coping strategies for the next time you find yourself in these situations.
1. When a user has lost control
Some people who call the help desk are already well into the "five stages of grief." You may need to listen to a fair amount of ranting and raving. "I've been working help desks for the last seven years," comments one employee, "and I have heard it all. Screaming, swearing, banging the phone on the desk. One user called me an 'idiot' and a 'liar' because I couldn't retrieve the files he accidentally deleted."
Solution: Some IT help desks have a no-tolerance policy when it comes to verbal abuse of the support staff. It's a good idea to get the support of upper management for putting such a policy in place; in the meantime, you may have to take a deep breath, and do your best to calmly talk the person off the ledge.
2. When users only have themselves to blame
A help desk worker from Nevada tells a story about an employee who called in several years ago, complaining about the state of his PC. The story gradually emerged that the employee was frustrated by the slowness of his computer, so he decided to wipe it clean and install his own (pirated) copy of Windows. He hadn't backed up any of his data, thinking everything was automatically backed up to the company network. He spent the rest of the day trying in vain to recover his deleted files, before angrily calling the help desk and accusing them of "screwing up the backup."
The help desk worker spent the next several hours trying to retrieve his files, but most were gone. To deflect the blame, the employee insisted the IT department was at fault for losing his backup files, even filing a formal complaint with the help desk manager, and his boss.
Solution: This is the worst nightmare for a help desk worker: telling an irate customer that the problem cannot be fixed (especially after spending the day trying to fix it). This technician handled it as well as could be expected; and he was backed up by his company, who wound up eventually letting go of the problem employee.
3. When everyone has an "emergency"
Let's face it: people don't usually call the help desk to discuss a problem that can wait a couple of weeks. Most need help now, and assume their problem should take priority over everything else.
A service desk manager at a tech firm in Massachusetts claimed that during one horrific week, his team had 156 tickets open, all marked "Urgent." Then a senior-level VP called in, and demanded immediate help with his PowerPoint presentation, which wouldn't animate properly. How did he respond? "I sent someone to get his animation fixed right away," he confessed.
Solution: Regularly review all tickets to see which ones can be moved down in priority. Use a tool like SAManage to better streamline and prioritize tickets. And give the boss a ready-made animated PowerPoint template.
SAManage can assist your help desk team in dealing with problem situations. Its IT service desk offering can allow your team to log each ticket in a way that protects your employees, and provides all the information that is necessary … no matter how difficult the situation.
Photo credit: David Boyle
About Laura Miller
Laura Miller is the Senior Director of Sales Operations, ITSM at SolarWinds. She works one-on-one with customers ranging from SMB to Fortune 500, providing them with a modern way to look at service management. Laura's ITIL experience and ITIL v3 Foundations certification provides her with a unique understanding of the service management industry. Her guilty pleasures are anything chocolate, ice coffee, and reality TV.
Read more articles by Laura
---