3D printers aren't just for hobbyists who want to print out plastic action figures.
Companies can create customized products and one-off prototypes and samples in-house rather than outsourcing this task.
The International Space Station plans to bring a 3D printer on-board later in 2014 for making spare parts.
The market for 3D-printed products was worth $777 million in 2012, but could be worth $8.4 billion by 2025, largely due to exciting medical applications for 3D printing that are in the pipeline. Goldman Sachs believes that 3D printing is an extraordinary technology that will force businesses to "adapt or die" since it's cheaper and more adaptable than older manufacturing techniques. And Credit Suisse estimates that the 3D printing market will grow at a rate of 20% annually in coming years. Here are some novel ways 3D printing is being used.

"This space walk is going to take forever. Wish I had printed out some snacks first."
Living Tissue Printed
A San Diego company called Organovo plans to sell 3D-printed strips of liver tissue to pharmaceutical companies this year for testing drug toxicity. Over the next five to 10 years, Organovo wants to be able to use individual patient cells to print tissue that can be used to patch failing organs and eventually to print out entire organs. In addition to the liver tissue, Organovo plans to present data on test tissues for kidneys and breast tissue in 2015.
A research team at the University of Texas at El Paso is working on printing out skin and other tissue and a device called aBioPen has been developed in Australia for "drawing" cells onto bone tissue. The prototype for the BioPen was creating using a 3D printer.
Other Healthcare Applications for 3D Printing
Healthcare is one of the leading industries using 3D printing, but it isn't just printing out biological tissue. Today, more than 90% of hearing aid shells are made with 3D printing, and dental labs are starting to use it for things like custom crowns. Additionally, personalized knee and hip replacements use 3D printing, and are expected to increase in popularity.
3D printing is also providing affordable options for people who don't have access to high-tech medical care. A company called Not Impossible Labs 3D prints low-cost prosthetic limbs for amputees in parts of the world where prosthetics are either not available or unaffordable.
3D Printing in Aerospace and Automotive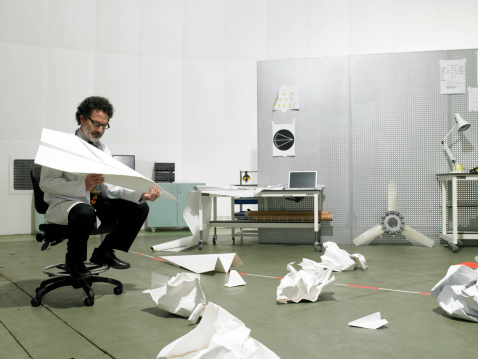 To be fair, some aerospace technology still only requires 2D printing.
A company called Sono-Tek in Milton, NY uses 3D printers to make prototypes for precision nozzles, drastically cutting the amount of time and money companies spend making metal prototypes. General Electric and Rolls Royce both plan to use 3D printing for the jet engines they make, and Ford uses 3D printing for making test parts. British fighter jets have already flown with components made by 3D printing, and expansion of 3D printing should save over $2 million in maintenance and service costs in just the next four years. Best of all, parts can be manufactured wherever a 3D printer is located.
Microsoft and Adobe
Microsoft's Windows 8.1 allows for 3D printing to be a native element in the operating system, and has created an app for consumers so they can use 3D printing as well. Adobe Systems is also doing what it can to bring 3D printing to the masses. The latest update to Adobe Photoshop introduces the ability to print directly to a 3D printer from the application. This allows graphic artists, product designers, or other users of 3D printing to print objects from ceramics, metals, sandstone, and other materials.
The Toy Industry
Mattel used to create prototypes from clay or wax, but now they use 3D printing for prototyping most of their toys. Toymaker Hasbro now has a partnership with 3D Systems to co-develop and commercialize "play printers," and Disney has software that can turn animated characters into 3D-printed toys. A British startup called MakieLab lets children design dolls using its app or website, and these custom dolls are 3D-printed to order.
3D printing is making its way into an impressive range of industries, and if your organization manufactures products or prototypes, you can expect 3D printing to affect you eventually. Of course, 3D printers are IT hardware, and IT departments will need to define what their responsibilities are as far as keeping the hardware running and getting help from manufacturers when malfunctions occur.
When your IT team has powerful IT service desk software like Samanage, it won't have to worry about the drudgery of older IT service desk software, because Samanage is flexible, scalable, and has a full range of IT asset management features. With Samanage, once 3D printing makes its way to your organization, your IT team will be ready to add 3D printing support to its repertoire.
About Matt Shanklin
Read more articles by Matt
---