The workplace of 2014 is the most diverse age-wise that has ever existed, partly as a result of economic necessity and the simple fact that people live longer than they used to.
Many workplace leaders repeat the management style they themselves experienced before becoming managers, and in many cases – particularly for managers in the Baby Boom generation – this management style is a top-down approach.
But "what we've always done" isn't always best. Today's workplace is very collaborative, and management should reflect this, particularly when you have employees from four generations represented on your team. Today's IT manager has to be prepared to motivate and engage people with very different worldviews and generational tendencies, and to do that effectively, you need to understand the generations represented.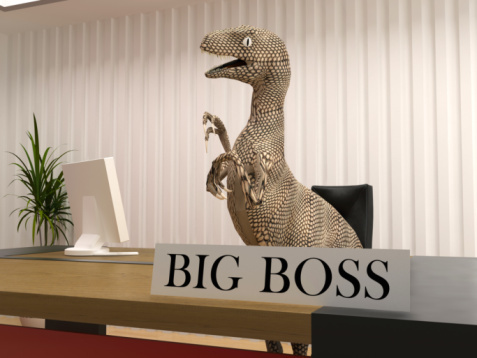 Managers from the upper Cretaceous period were especially devoted to top-down management.
Four Generations Are Represented in Many Workplaces Today
The workforce of 2014 spans four generations:
• Traditionalists – born between 1927 and 1945
• Baby Boomers – born from 1946-1964
• Generation X – born from 1965 to 1980
• Generation Y (Millennials) – born from 1981-2000
Every worker, whatever his or her age, wants a positive relationship with management. There is a divide, however, between the older two generations and the younger two, with the older generations generally being more loyal, and the younger two being much more willing to jump ship if getting along with management is problematic.
Increasing Employee Engagement
Of course, you can't just see people as empty vessels that are representative of their generation in every way. There are certain employee needs that are shared across the generations:
• Everyone wants to be respected
• Everyone wants to feel they're part of what keeps the organization moving forward
• Everyone wants feedback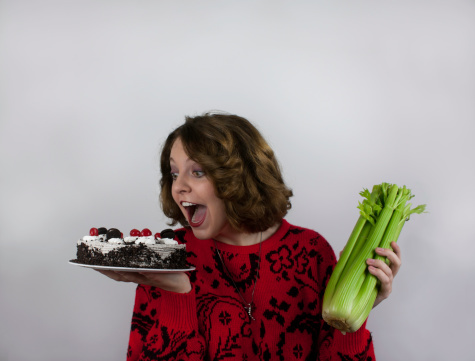 And among all age groups, work cake is preferred to work celery by a 10 to 1 margin.
Teamwork in your organization should span the generations, and there should be a place for everyone. Knowing some of the best traits of the various age groups can help you put them to use. Obviously, not everyone "acts like" their generation, but in general:
• Traditionalists tend to have very strong work ethics
• Baby Boomers tend to be positive in outlook
• Gen X-ers bring in a sometimes-necessary sense of skepticism
• Millennials often possess youthful self-confidence
All these qualities are valuable to effective teamwork, so don't minimize someone's value to a team based simply on his or her age. Moreover, if rewards aren't in the form of cash bonuses (universally appreciated), they should be geared toward the individual, and what motivates him or her specifically.
Tips for Managing a Multigenerational IT Team
Put in some work up front, and you can avoid some of the potential problems of managing team members of multiple generations. Here are some ideas:
• Learn how team members communicate best. It may be worthwhile to have a team meeting on exactly this topic. Simply knowing that some team members prefer picking up the phone and others rely on SMS or social media channels can help everyone communicate more effectively with each other.
• Recognize instances where mentoring can benefit newer workers. Also recognize where peer-to-peer learning helps knowledge transfer across your team.
• Sit down with your team members and ask them straight up what would help them be more effective on the job. You may be surprised with how simple and practical their answers are.
• Work on your own communications skills, so you can make the most of the time spent one-on-one with workers of every temperament, skill level, and age.
• Have a succession plan in mind. When the 70-year-old who learned how to write machine code and intimately knows your organizational history retires, will someone else have taken in the important parts of this person's vast knowledge base?
If you manage a multigenerational IT team, recognize that you have a much more diverse knowledge base than if that weren't the case. Every generation has valuable attitudes, attributes, and perspectives, and if you don't make use of them, you could be seriously missing out. From the traditionalist whose worldviews were shaped by growing up under post-war expansion and the GI bill to the millennial who was profoundly influenced by Columbine and the tech revolution, everyone on your team has something unique to offer. When you appreciate and take advantage of this, you're more likely to build a cohesive and productive IT team.
Another key to having a great team is providing your people with great IT service management software like Samanage. With an intuitive interface and fantastic features like self-service portal capability, comprehensive IT asset management, and remote desktop control, Samanage gives your team the IT service delivery tools they need to get the job done effectively.
About Kyle Shepard
Kyle is a Senior Manager of the Customer Success team at Samanage. His team provides ongoing support in service management strategy for evolving customer goals. He speaks on webinars and other educational resources in ITSM. He also played college lacrosse.
Read more articles by Kyle
---