Your company doesn't have to spend a lot to encourage workplace wellness. If you commit to spending around $100 per worker per year, you can make work more enjoyable, and help your tech workers improve physical and mental health. And you may have an easier time starting up a workplace wellness program in the future: the Affordable Care Act offers new incentives for starting these programs.
It's best to start out simple by focusing on three things: workplace ergonomics, regular movement to combat sedentary habits, and access to better food choices.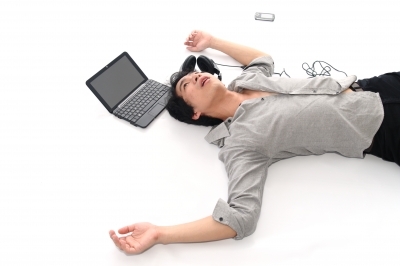 Believe it or not, this is not the ideal work position.
Workplace Ergonomics
With IT service desk workers, the main ergonomic risks in the workplace come from repetition, unnatural postures, and staying in the same position for too long. Many risks can be addressed by having chairs and work surfaces that are of the correct height and size. Ideally, your workers should be able to adjust work surface height and seat height to maximize comfort and productivity. The ability to adjust computer monitors to the correct height is also important. Swing arms help people position monitors more comfortably, and some workers find negative tilt keyboard trays helpful as well.
Eye strain is common among people who use computers all day. Ambient lighting for computer use should be about half as bright as typical office lighting. Using fewer or lower intensity light bulbs can help, and cutting down on exterior light with blinds or drapes helps too. Monitors should be to the side of windows rather than in front of them. If your office uses fluorescent lights, see if you can get your company to replace the tubes with full spectrum fluorescent lights, which mimic the spectrum of sunlight and are gentler on eyes.
Consider speaking with HR or benefits and find out if you can arrange for yearly vision screenings for your IT service desk workers. The National Institute of Occupational Safety and Health (NIOSH) says that computer users should have yearly eye exams for optimum eye health.
Regular Movement
Working on the IT service desk is often sedentary, particularly now that remote desktop control cuts down on the need for direct deskside support. Every hour, workers should get up and move. One Sacramento insurance agency has an hourly alarm that signals workers to get up from their desks and move around for about two minutes. Workers stretch, do a few jumping jacks, or go up and down stairs, and the program is strictly voluntary. If your IT workers are all in the same general area, you could probably program an app to sound a chime every hour to signal a two-minute activity period without spending anything.
Some companies buy workers pedometers and set step goals, offering gift cards or other prizes for those who meet them. A weekly Nerf Dart Tag tournament or a ping pong table set up nearby can also help your tech workers get up and move at low cost, and can improve morale too.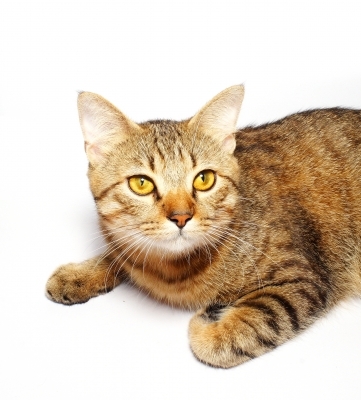 An office cat adds the element of surprise to office ping pong games.
Access to Better Food Choices
This is trickier, but there are ways to get your tech workers to consume something other than Sour Patch Kids and Mountain Dew. IT service desk workers are often grazers by necessity because IT problems don't take regularly scheduled lunch breaks. This makes it all too easy for tech workers to hit the vending machines or ask the person who's going for coffee to bring them back a Triple Venti Caramel Macchiato (the coffee that eats like a meal!).
But you can make grazing healthier by providing convenient, healthy foods neatly laid out on the break room table, along with plates, cups, or bowls. The key word here is convenient. Provide things that are easy to eat by hand, like non-messy fruits (grapes, apples, bananas), nuts, low fat cheese cubes, and whole grain crackers. A hot water dispenser and selection of teas gives workers a healthier alternative to sodas that's less boring than water. Make a special effort to provide healthy, handy snacks if your team is doing a major upgrade and is working crazy long hours.
Later on, if results are positive, you might be able to get management to consider adding to your workplace wellness initiatives. Other workplace wellness initiatives that are helpful but aren't prohibitively expensive are things like free flu shots, yearly cholesterol screenings, or the occasional treat of bringing in an on-site deskside massage therapist. Workplace wellnessdoesn't have to be expensive, and some studies find that corporate medical costs and absenteeism decrease by more than the cost of implementing such programs.
Samanage helps your IT team be more productive with a powerful array of IT service desk and IT asset management capabilities in one IT service management package. Preventing the headaches of dealing with clunky, inadequate IT service management is how Samanage makes the workplace a better place to be.
Photo Credits: Phaitoon / freedigitalphotos.net, gameanna / freedigitalphotos.net
About Brandon Miller
Brandon has been with Samanage for over three years in a variety of positions, including sales development, inside sales, customer success, and now corporate recruiting. Hosting multiple customer webinars on a variety of topics, Brandon has a deep understanding of technical support issues, implementations, and advanced trainings in IT service management. With a good handle on the industry as a whole, including competition and industry trends, Brandon remains ahead of the curve when it comes to the Samanage application, roadmap, and Community.
Read more articles by Brandon
---