Device Tracking Laws and Your Mobile Workforce
By: Matt Shanklin LinkedIn &nbsp&nbsp|&nbsp&nbsp
Device tracking laws are in flux due to the newness of the technology and lack of legal precedence, and it's particularly vexing for non-governmental employers interested in tracking devices used by employees. Think how tempting the practice might be to an employer:
• They can find out when employees arrive at and depart from the workplace
• They can determine where employees hang out during breaks and lunch
• They could find out if an employee is spending "sick leave" at Disneyland
GPS tracking already has its place in the workplace. Transportation and delivery companies have long used GPS to track which driver is closest to a certain site to aid in dispatching and conservation of resources.
In these cases, the technology serves a clear organizational purpose. Plus, the drivers know it's going on and (presumably) consent to it.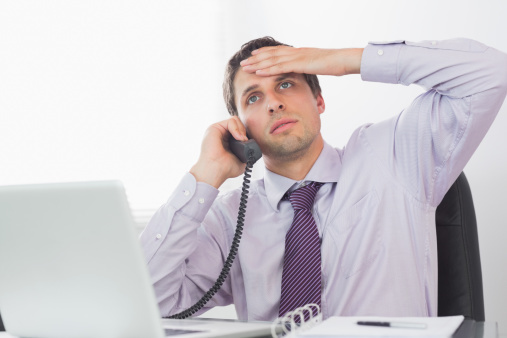 "Someone should have warned him that they know where are, with that other phone in your pocket!"
 Some employers, however, overstep the bounds of tracking to access personal data that may be unrelated to work, and are getting taken to court over it. What are the duties and responsibilities in this new aspect of the employer-employee relationship? Here are some considerations.
What Laws and Regulations Exist Already?
First, the terms of some union contracts may apply when employers want to track an individual driving a company vehicle, or a private one used on company business. So if your company hires union workers, the legal department needs to review union contracts before going near the device tracking issue.
There are no federal laws at present that restrict the use of GPS or mobile device tracking by employers. There are some state laws relevant to mobile device tracking, and they generally require only minimal disclosure of electronic monitoring. At the same time, the BYOD revolution has given employers more opportunities to track employees.
Resistance to tracking is not widespread, and is concentrated within smaller companies and the construction trade. A 2012 Frost & Sullivan survey of 300 mobile purchase decision-makers found that 63% said they would buy apps for tracking employees. Of the 37% that would not, most said they didn't think it was necessary, with few citing employee privacy as a reason not to track devices.
"Notice and Choice" Is Critical
Without a strong statutory history on the matter, it's critical that employers use the concept of "notice and choice" to gain employees' affirmative consent to tracking. This is usually done with employee handbooks and acceptable use policies. When it comes to employer-provided devices, employees have little or no right to or expectation of privacy, and rights depend on the terms spelled out in employer policies. In these cases, use of a device by an employee generally constitutes implied consent to tracking. Employers may tell employees to turn their work phones off when they're not at work to prevent tracking.
If your organization has operations outside the US, standards for employee privacy can be very different, however. The EU, for example, privileges individual privacy over employer interests in many circumstances, and views employee consent to tracking through the lens of the inherent power imbalance between employers and employees, so particular legal care is necessary for operations outside the US.

"At least they won't be able to track my side trip to Ibiza."
Recommendations on Developing a Strategy
Get qualified legal advice before tracking employee devices to ensure it's legal locally, within your state, industry, and nationally. Spell out all tracking functions in employment agreements, including circumstances under which devices may be tracked and how data gathered is used. If possible, allow employees to opt out of tracking, while spelling out which benefits the employee will lose from such a decision.
Even if Legal, Is it a Good Idea?
Some employers may ultimately ask themselves whether employee device tracking is wise, even if it's legal. The perception will naturally arise that there is a lack of trust on the part of the employer, and star employees may simply decide they won't work under those conditions and go elsewhere. Employee retention could be negatively affected. Ideally, hiring practices should focus on those potential employees who are responsible and have the right work values in the first place.
When employee tracking is used, your IT team will be involved, regardless of how they view the practice. Doing it effectively and legally, without crushing morale, requires being up front and open about exactly when and how employee devices are tracked and what is done with the data.
One thing that makes sense regardless of your organization's view on tracking employee devices is that all devices should be a part of your IT asset management program. Samanage is a leading provider of IT asset management software that's easy to use and efficient, helping your IT service desk effectively manage IT assets without cumbersome processes and duplication of effort.
About Matt Shanklin
Read more articles by Matt
---