5 Surpising Benefits That Come With a SaaS Service Desk

Software as a Service can be a difficult concept for some to wrap their heads around. How can it benefit my company they ask. Isn't it just moving software from one part of the computer to another? You might be surprised at the benefits you'll find from switching to SaaS. 1) Simpler Software Inventory We've all had that moment where we've turned around and realized there's an enormous collection of software in our department … and we may not be entirely sure of what we have and what we don't. It's an aggravating situation to be in, especially if you've got other things to do. But with SaaS, you've got the database right there … and more importantly, the ability to see what you have, and what you need. 2) No License Compliance Problems License compliance is a particularly tricky problem. Sometimes, an organization is large enough that you can stumble into license compliance problems without any warning — or even noticing — until you get audited and discover you've broken the license. But with SaaS, you've already got a handle on the license problems. You know exactly who's using what, and what they're using it for. While we can't make license audits disappear, SaaS can make them a lot less painful… and spot problems before they start. 3) The Ability to Refocus With SaaS, you don't have to worry about infrastructure. So it gives you more time to focus on what your department needs, and your employees more time and ability to do their jobs. You can focus on how to get the best service to your fellow employees, not having to constantly fix the tools your subordinates use to help them, or track down lost inventory or tickets. And that will make both you and the people you serve a lot happier.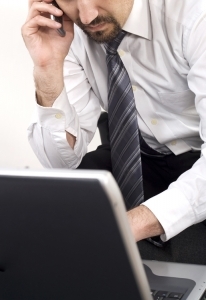 4) Workers Who Can Help Themselves We all have that one person in the office, a seemingly nice person who is completely incapable of fixing their own problems. Broken keyboard? Ticket. Missing icon? Ticket. Email frozen? Ticket. SaaS helps you to spot these employees and teach them how to solve basic problems for themselves. So you'll both spend a lot less time resolving tickets, and more time focused on work. 5) Better Organization, Quicker Response One of the advantages of being organized, and where SaaS really shines, is that it makes finding what you need lightning quick: It's already organized in a constantly-updated inventory. Employees who need new software can have it pushed to their desktops instantly instead of waiting for a technician to show up with a thumb drive. If a department needs a printer, you already know where one is. You'll find efficiency goes through the roof, simply because a lot of the time you spent looking for things is spent doing things. And isn't that much more preferable?
About Nathan Riley
Nathan Riley is a Sales Director for Samanage. He has seven years experience in the industry, and has had a front row seat for the evolution of service management as a platform for the entire organization. He helps organizations ranging from SMB to Fortune 500 bring customized service to employees. Nathan proudly served the United States Armed Forces in the United States Marine Corps.
Read more articles by Nathan
---