When companies adopt bring your own device (BYOD) policies, everyone is affected.
If you work in IT, either with the IT service desk or concerning IT asset management, it pays to understand how different end-users approach BYOD.
Here are 6 broad "types" of BYOD workers, and what makes them tick.

"Two dozen tuna melts for the intern orientation lunch? No problem, just text the order by 8. Any word on approval of the tip jar app yet?"
1. The Technically Savvy
Whether the tech savvy BYOD user is a Millennial who has never been without technology, or a tech enthusiast from an older generation, they may be the ones pushed for BYOD in the first place. Not fazed by working odd hours, and not satisfied with the "antique" company-issued BlackBerry, these embracers of technology are always looking for ways to work more efficiently. They may also be the reason your company has a mobile app blacklist.
2. Executives
Fair or not, executives generally get to use the device they want to use, and IT often has to adapt. And you may have to adapt quickly, because the executive with a taste for gadgets is going to find a way to get that latest iPhone or iPad the day it's launched. Whether they actually use their mobile devices as much as, say, someone on the sales team, is debatable, but even CEOs can forget an iPad in the back of a taxi and have the IT people scrambling to get it erased pronto.
3. Sales Personnel
And speaking of sales teams, these are the people who often make the most of mobile devices. And why not? With a tablet, they can give an impromptu sales presentation with no typing required, and can carry around one or two devices in place of a briefcase full of paper documents. Sales personnel and mobile devices go together, in the immortal words of 70s musical Grease, like rama lama lama ka dinga da dinga dong.
4. Hourly Workers
This is tricky, because entry-level people can theoretically boost their advancement prospects with BYOD, and many are eager to do so. The problem is, when hourly workers use their devices to answer work email or do other work things after they've clocked out for the day, it could expose your company to unpaid overtime lawsuits. Your organization's BYOD policy has to address this issue up front, with complete clarity.
5. Social (Media) Butterflies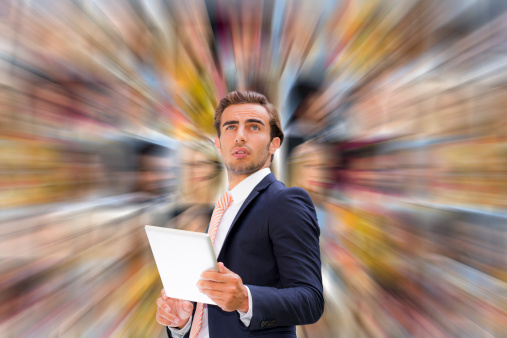 "OK, merger meeting at two. But first, the status of the Facebook fight between Jones in Accounting and Harper in Finance."
BYOD makes productivity go up, right? Well, usually it does. However, there will always be some workers who spend excessive amounts of time using their devices to socialize, making their productivity drop. Facebook is one of the most blacklisted apps in workplaces that use BYOD. Other popular apps that often make the blacklist include Netflix, Angry Birds, SkyDrive, Pandora, Google Drive, and DropBox.
6. Bad Guys
BYOD plus a disgruntled employee can equal disaster. If your company has deep-seated morale problems, then you need to consider whether BYOD is wise at all. While it's not fair to curb everyone's productivity and ban BYOD for fear of one or two bad employees, you have to emphasize data security and consequences for breaching the BYOD policy. Assuming your company operates in the US, you also need the ability to remotely wipe devices if they're lost or stolen, or "lost" or "stolen" if you know what we mean.
Wall of Separation between Personal and Business
Having a separate work profile or enterprise workspace on devices is becoming more popular. By keeping work-related apps and data segregated and encrypted, companies can implement security policies that apply specifically to enterprise use, content, and data. You may make access to work files contingent on entering a passcode even if the device doesn't require one. This type of setup also makes it easier to do a targeted data wipe if an employee leaves for another company, or loses a device.
IT Asset Management
When BYOD users are allowed on your organization's network, it's up to the IT team to manage access. Every device has to be identified, authenticated, and mapped to a user. IT asset management and network management are closely intertwined here, and you need a certain amount of flexibility. That's not too much to ask, is it?
Seriously, though, HR will use different apps than marketing, and engineers will use their devices for different things than salespeople. If your security tools let you set permissions according to the individual user (or team), you'll have an easier time making BYOD work for your organization. It's a fine line between allowing end-users the resources they need while not opening the barn door in time for a team of security breaches to bolt out.
About Laura Miller
Laura Miller is the Director of Sales in North America for Samanage. She works one-on-one with customers ranging from SMB to Fortune 500, providing them with a modern way to look at service management. Laura's ITIL experience and ITIL v3 Foundations certification provides her with a unique understanding of the service management industry. Her guilty pleasures are anything chocolate, ice coffee, and reality TV.
Read more articles by Laura
---