Can An IT Service Desk Team Be Completely Virtual?
Virtual and off-site teams have a strong appeal in many areas of a corporation. Off-site teams save money, save space, and lead to happier employees.
Yet there's often a belief on the part of corporate IT departments that you need to have the entire IT team on-site. The truth is that there's really no reason your IT staff has to be on-site. In fact, it may make much more sense to have your IT department off-site. Here's why.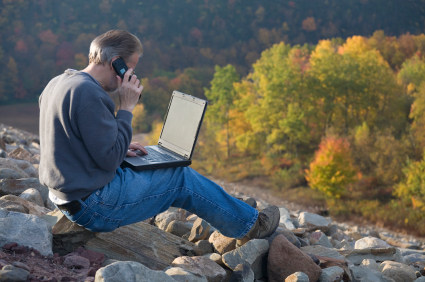 "Hey, I told you I would be working off-site today."
Software Problems
Let's start with the source of most IT problems: software. At this point, most hardware configurations from reputable vendors are sturdy and functional. Many IT problems in corporations have to do with the software installed on these computers.
To fix a software problem, however, generally doesn't require a person to be there in person. Instead, IT workers simply need to have access to the computer. If a computer is connected to the Internet, accessing it remotely to address software issues is a fairly simple process. There are quite literally dozens of methods to access a computer remotely that your IT department can use to their advantage.
Provided the software issue isn't something that renders the computer unusable (such as a total system crash), most software errors can be addressed by remote access.
Quite honestly, most software "errors" are simply user errors. By far, the most common corporate IT issues center around easy remote issues like passwords and access privileges. Similarly, if employees need to be trained, especially if it's one-on-one training, there's no reason that your IT department needs to be on-site.
Hardware Issues
But what about hardware? For hardware problems, you'll need to have your own IT people on-site, right?
Here's a simple question to ask yourself: how often do you have hardware issues in the first place?
Hardware has largely been standardized at this point, and many companies use a standard hardware configuration for their employees. This has advantages for pricing, of course, but there's another advantage: it offers you plenty of spare parts.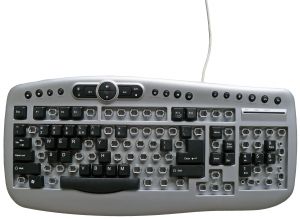 Many times, the solution is as simple as shipping them a new keyboard.
There are several ways to be prepared for hardware problems. None of them require a dedicated member of the IT department.
1. Subcontractors: Hire a local subcontractor who can come in on demand. These hardware problems are rarely complex and hardly ever require lengthy repairs. More often than not, it's a matter of physically restarting the system, adjusting cable connections, or other minor issues easily addressed. In extreme cases, systems may need to be replaced.
2. The cloud: Hardware problems can be solved fairly directly with cloud storage and network computers. Cloud computing is incredibly useful in that if an employee's computer breaks down, their documents and applications are not stored on a hard drive but on a remote server. So if there's a major hardware issue, you can simply swap out the computer and the employee can continue working.
3. Thin clients: Thin clients are hardware systems that largely use the server. The benefit of using them is that such hardware is simpler to repair and results in less work lost when those clients break down.
In short, while your IT team may occasionally need to be there in person, a virtual team can suit the needs of most corporations, since a large majority of problems can now be managed remotely.
About Laura Miller
Laura Miller is the Director of Sales in North America for Samanage. She works one-on-one with customers ranging from SMB to Fortune 500, providing them with a modern way to look at service management. Laura's ITIL experience and ITIL v3 Foundations certification provides her with a unique understanding of the service management industry. Her guilty pleasures are anything chocolate, ice coffee, and reality TV.
Read more articles by Laura
---