How To Integrate Twitter With Your Help Desk
Twitter is widely seen as a social network, but it's also a flexible and powerful social communication tool. And depending on your situation, it may be the ideal fit for your IT help desk team. So is Twitter right for you? Here's how to find out — and how to incorporate it into your IT help desk system, if it is a good fit.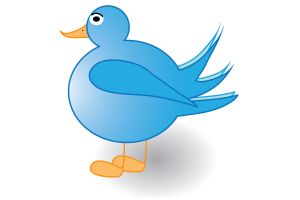 "Wow, that Twitter bird has really put on some weight."
Advantages of Twitter
It's free. No enterprise fees, no certification, no proprietary equipment … just sign up for an account.
No energy or time drain maintaining equipment.
It offers a simple way to get in touch with your IT team, regardless of where your employees are. Twitter allows its users to update via just about any connected method under the sun. Even if they're in the middle of nowhere, if your employee has a signal on his or her cell phone, Twitter can be reached via text message.
There are several free software solutions for integrating and following multiple Twitter feeds.
Disadvantages of Twitter
Privacy standards have to be stringent. Every tweet needs to be protected, and the Twitter account needs to be distributed only to those who will need to use it. Even then, it's not as secure as most corporate solutions.
You have no guarantee of stability. Twitter can be prone to service failures when under heavy load.
It will require that your staff stays on top of the feed. This is a fairly simple process, but if there's some sort of on-site emergency that requires all hands, you may come back to a service backlog and frustrated employees waiting on tweets.
How to Implement
For many solutions, Twitter won't be your primary tool, but if you think it will be useful, here's a step-by-step guide.
Start your account. Pick a Twitter handle that's tied to your company, and easy for employees to remember and use.
Work out a monitoring and access schedule in your department. As long as your department is open, somebody should be watching the feed.
Choose a software suite to use for monitoring. Twitter can easily be incorporated into social media monitoring and enterprise solutions, including solutions such as Salesforce Chatter, which integrates with Samanage.
Create a "white list" of employees, to limit inappropriate tweets and other malicious activity. There are two ways to go about this: an employee can start (or have started for them) a professional account or they can choose to provide you with a personal account. The "professional" account is likely a more preferable option: you can create a username formula and it will reduce possible privacy concerns among employees.
Follow this white list on your account. Make sure that employees are aware that the IT feed can see anything they post to their Twitter accounts. Similarly, disseminate your IT Desk's username to all employees who need it.
Follow up every month or so to look into use and compliance on the department side, and on satisfaction on the employee side. Incorporate feedback as needed to improve the experience.
Twitter can be a key part of your IT desk, or it can simply be one of many contact methods. Regardless, it's a tool worth considering as we create more ways to connect professionally.
About Adam Shearin
Adam is an accomplished sales professional with over six years of experience working with mobile applications and cloud-based IT service desk and asset management solutions. Experienced working with a broad range of clients from SMB to Fortune 500, Adam clearly and confidently knows how to best articulate the benefits of multi-tenant SaaS-based ITSM/ITAM software. Adam's service management expertise isn't limited to IT and transcends departments organization-wide, bringing a new level of efficiency and processes to departments that once relied solely on spreadsheets and emails.
Read more articles by Adam
---