Need IT Help? There's an App for That
It's no surprise that web help desk software now offers mobile functionality. After all, if someone thought up the battery-killing Pocket Heat, there are bound to be mobile apps for IT help desk services, right? In fact, help desk apps for mobile devices are becoming more common, and if your IT help desk doesn't offer one, you may be missing out on a great tool that can enhance productivity for you and your co-workers.
For example, suppose an end user calls the help desk because her computer isn't working. Open the mobile help desk app on your phone,  scan the QR code sticker on the machine, and instantly the IT help desk page for that particular asset pops up. You can quickly learn of any incidents associated with the faulty machine, update the status, enter a note, or discover that the machine was already scheduled to be replaced.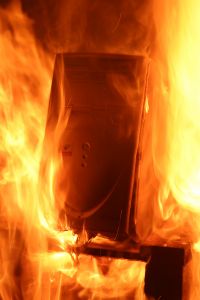 "You're in luck! Not only is your machine scheduled for replacement, I have all the ingredients for s'mores in my desk."
Making Your Help Desk Available to Mobile Users
When you make your help desk available to mobile users, you give end users one more option for accessing your self-service portal or submitting a service ticket. Plus, if you have functionalities like the QR scanning mentioned above, you don't waste time looking up the wrong machine because the end user copied down a serial number or model number wrong.
Mobile help desk applications can make the IT service management worker's job quicker and easier, too. For example, wherever you are, you can look at a real-time list of the help tickets assigned to you so you can stay on top of your workload.
You can also use these mobile apps for tedious tasks, like doing an inventory audit. To perform an inventory audit, the IT worker can bring up the help desk's mobile scanning app and walk from machine to machine, scanning in QR codes and automatically creating an up-to-date inventory with time and date stamp. The biggest danger with this type of function is the IT worker being repeatedly accosted by every worker who has "one quick question while you're here." (Maybe an invisibility app will be perfected soon!)
What Makes a Great Mobile Help Desk App
Mobile apps are all about convenience, and nowhere is this more important than with your IT help desk software. If you want end users to make use of your self service portal and ticket submission system, you have to make it as convenient as possible. If your mobile help desk app is built with top cross-platform technology like HTML5, it will work with any mobile device, without the user having to install or manage the app.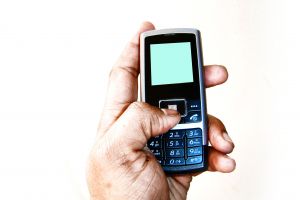 Okay, maybe it won't work with any mobile device.
The only way it could be more convenient for end users would be if it made you find them and use the app for them (but don't give them any ideas).
Pros and Cons of Mobile Help Desk Apps
The "pros" of mobile help desk apps are pretty obvious. You're making it that much more convenient for end users to get the relevant information to you (even if their computer is nonfunctional), which means you can go to work solving the problem that much more quickly. The main "con" of using a mobile help desk app is that it makes you that much more reachable, and you can't use the excuse of being away from your desk for not seeing the 12 new tickets that popped up while you were doing an asset inventory.
Tips on Running a Help Desk that Offers Mobile Apps
Running an IT help desk that offers end users mobile apps is, in many ways, just like running one that doesn't. Best practices include keeping your knowledge base up to date, measuring the results you get after people start using the mobile app, finding out what end users like and don't like about the mobile help desk app, and making sure that everyone is running the same current software version.
About Laura Miller
Laura Miller is the Senior Director of Sales Operations, ITSM at SolarWinds. She works one-on-one with customers ranging from SMB to Fortune 500, providing them with a modern way to look at service management. Laura's ITIL experience and ITIL v3 Foundations certification provides her with a unique understanding of the service management industry. Her guilty pleasures are anything chocolate, ice coffee, and reality TV.
Read more articles by Laura
---