Productivity Myths That Could Be Holding Back Your IT Service Desk
Self-help books on productivity are big sellers, and motivational speakers on the topic do quite well for themselves by convincing businesses that once they enlighten employees on their secrets for productivity, it will soar.
But in reality, productivity is personal. While some people are at their most efficient with angry metal music pouring in through their earbuds, others need quiet or white noise. Some people are most productive in a buzzing office environment, while others need to mentally or physically block out others.
Many productivity myths exist, and if you blindly follow them, you could be cheating your IT service desk out their best work.
Here are some productivity myths that you should reconsider.
Myth: Productivity Means Powering Through Slumps
You've probably heard the quip, "Keep your eye on the ball, your feet to the fire, your shoulder to the wheel, and your nose to the grindstone. Now try to work in that position." Back in 1972, a psychological study showed that people have limited reserves of willpower, and that beyond a certain point, continuing to push yourself brings diminishing returns. You'll generally do better if you take a short break, disengage for a few minutes, and recharge. Maybe that means getting a soda from the vending machine, or just closing your eyes and meditating for a few minutes if your choices are limited.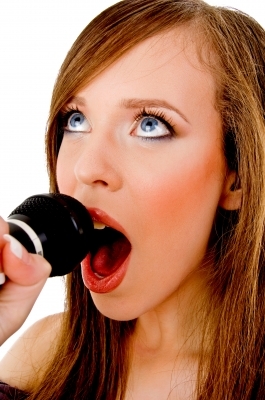 "And with my Visionary Background Matrix System, one person can do the work of 1.6 people."
Myth: Multiple Monitors Increase Productivity
Early (as in, early 2000s) studies on this subject were often commissioned by companies with ulterior motives, and some were released to coincide with new technology, like larger screens. Basically the studies said that having one, small screen on which to do your work limited productivity, which makes sense. If you feel like you need binoculars to see your work while sitting at your own desk, you aren't going to work productively. But multiple monitors are only helpful for certain employees doing certain tasks. Multiple monitors for their own sake don't do anything for productivity.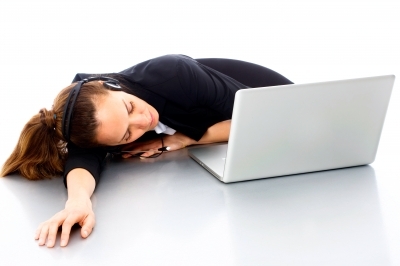 If only she'd had that second monitor …
Myth: Multiple Monitors Kill Productivity
By the same token, many of those early studies were talked up due to the fact that larger monitors weren't always available (or if they were, they weren't affordable), so multiple monitors were the go-to solution for those who needed more screen real estate in their faces. If your IT service desk needs a lot of screen space, then multiple monitors may be exactly what they need. Then again, one very large monitor apiece might work. There's no real right or wrong answer, as long as workers have the amount of screen space they need for the job.
Myth: If Only I Had More Hours in the Day
Research papers like this one and this one have shown that longer hours can have the opposite of their intended effect by actually causing people to get less done, and by negatively affecting the quality of work. The second of those research papers concluded that whether you're working part time or full time, the productivity sweet spot is around 30 hours, and beyond that, work quality and life quality tend to decline. So while the IT service desk putting in 50 hour workweeks during crunch time may impress management, work quality may not be the best during that time.
Myth: I Need to Learn to Multitask Better
The idea of multitasking took off back in the 1990s with the introduction of Microsoft Windows. Look at employment ads today, and you'll notice many of them mention "handling multiple responsibilities simultaneously." Generally, workers are proud of multitasking, because it makes them feel extra-productive. However, multitasking actually sort of splits up brain function, and people who multitask a lot are actually worse at filtering out irrelevant information and have a harder time switching between tasks. What works better is learning to focus on a single task, while being able to switch between tasks when necessary. It takes practice, but this way people control information flow rather than letting information flow control them. (Also, listening to music while working doesn't count as multitasking. Yay!)
Your IT service desk is operated by people with different strengths, and who thrive under different work circumstances. Remember that next time a productivity guru gives a talk at your workplace. One thing your IT service desk workers all need, however, is great software that allows them to do their best work keeping IT services in your organization running. Samanage makes SaaS IT service desk software with a full range of IT asset management features built in. It's intuitive, flexible, scalable, and most of all, empowers your people to do their best work.
Photo Credits: imagerymajestic / freedigitalphotos.net, Ambro / freedigitalphotos.net
About Adam Shearin
Adam is an accomplished sales professional with over six years of experience working with mobile applications and cloud-based IT service desk and asset management solutions. Experienced working with a broad range of clients from SMB to Fortune 500, Adam clearly and confidently knows how to best articulate the benefits of multi-tenant SaaS-based ITSM/ITAM software. Adam's service management expertise isn't limited to IT and transcends departments organization-wide, bringing a new level of efficiency and processes to departments that once relied solely on spreadsheets and emails.
Read more articles by Adam
---