The 5 Most Common IT Service Desk Mistakes
Running an IT service desk is a hard job. You've got to keep a crucial aspect of your company up and running: If an employee has a problem, you're the one who has to get them going again. But this type of responsibility can often come with making mistakes. Here are the five most common mistakes IT service desks make, and how to avoid them.
1. Information Management… Or Lack Thereof
How organized is your ticket management system? Do you know what went wrong, when, and at who's desk? More importantly, do you know why it happened? Granted, some problems will be chalked up to the infamous and still-painfully-common I-D10T error, but sometimes equipment will start failing.
If you don't keep track of what your department does and when it does it, tickets may slip through the cracks … and even worse, larger systematic problems that you might be able to spot early go unnoticed and wreak havoc on your system.
2. Not Reaching Out To Your "Customers"
If an employee sends in a ticket request, or asks for new software, how quickly do you respond personally? An automated form letter is one thing: A personal response is quite another. Getting a personal response from somebody who has read the ticket offers two very distinct advantages: First, whoever filed the ticket knows you're paying attention and are working on the problem. Secondly, it means somebody has actually read the ticket … and will thus be more likely to fix the problem the first time.
3. Improper Notetaking
Ideally, a ticket is solved by the first person who handles it promptly, easily, and with no annoying problems that follow you around for days. Sadly, the world is not usually an ideal place. So is your service desk crew writing useful notes? Do they note where and when they spoke with an employee? Do they note serial numbers, types of equipment and other information somebody else may need if the ticket is escalated? Proper and detailed notetaking saves time, money, and more importantly … aggravation.
4. Poor Communication and Teamwork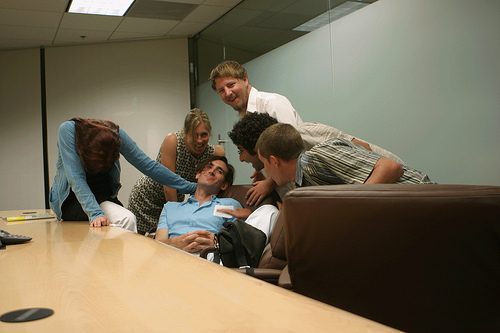 We've all had this experience: A team member takes on a ticket, and can't lick it. And, thus, instead of involving his or her colleagues or putting it to another team that may have more experience, ego takes over and it becomes personal. Maybe the ticket is only escalated after somebody has given up in defeat. Make sure that every member of your team is talking with each other about the cases they're working on and the tools they're using, and that everybody involved in a ticket is informed.
5. Bad Manners / Lack of Patience
Finally, there's keeping your cool.
An IT service desk is a customer service desk. Like any customer service job, while the "customer" may not always be right, you do have to handle user mistakes with a certain degree of tact. Insulting your users or burying them in jargon is not the way to go. Make sure your team understands that it's as much about listening to the person who filed the ticket as it about fixing the problem. Everyone has to deal with workplace frustrations productively and calmly; otherwise you have employees afraid of the IT department. Then you might have an entirely different task of finding a new person to man the desk.
Photo Credits: miss_rogue, Ben Lepley
About Taylor Burgess
Read more articles by Taylor
---