The Biggest Non-IT Problems of the IT Service Desk
Specific skill sets are required for solving technology problems, but the upside is that technical problems can usually be identified and solved in a straightforward manner. But technical problems aren't the only ones that IT professionals face.
The non-IT problems that IT departments deal with are rarely as straightforward as technical problems are.
And even when the relevant players agree that a problem exists, they can have different opinions on how it should be solved. Here are some of the biggest non-IT problems that IT service desks face, and what you can do about them.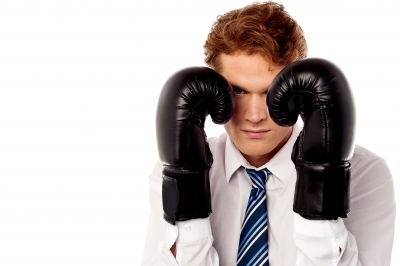 A man can only have his soda stolen from the breakroom fridge so many times before he snaps.
Office Politics
No department escapes office politics. An IT service desk worker may be told to do one thing by one manager, and told to do the opposite by another manager. A technology solution may be identified, but getting the funding for it could be fraught. Cliques can form, as can odd alliances and nasty personality clashes.
To deal with office politics, the first step is to understand the explicit and unspoken power structures in at work. Some people may have influence that's completely out of proportion with their job title, and others may inexplicably have the ears of the people at the top of the organizational chart. Knowing how people are linked is one key to be able to identify a rumor as "just office politics" or as something more substantial.
It may not be easy but it's important for IT service desk workers to build relationships with one or two people who know what is going on. Receptionists and other administrative workers often have everyone's number (literally and figuratively). In fact, IT workers are smart to build congenial relationships at every level, from the custodian who empties the trash every evening to the mid-level manager who happens to live down the block.
Shadow IT
"Shadow IT" is when end-users sidestep the IT department to do things themselves, such as signing up for cloud applications. A survey conducted by Frost & Sullivan and McAfee reported that 80% of employees surveyed admitted to using SaaS applications on the job without having explicit approval to do so. People do this for many reasons, including the opinion that the official procurement procedures are too cumbersome and slow. The risks of shadow IT are big: data can be exposed, stolen, or lost, and other security incidents are more likely.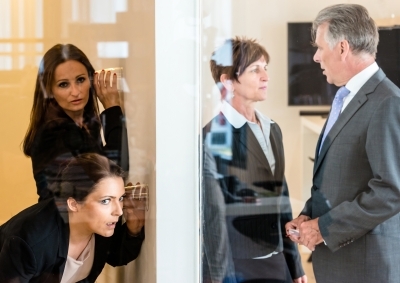 "Shush! He's about to say the admin password."
How should the IT department deal with shadow IT? The department should have explicit, written policies that make clear that SaaS has to be used in compliance with company requirements, for example Using IT asset management tools that notify the IT service desk when an application is installed on a network computer can also help quash shadow IT. And finally, IT workers should stop to any shadow IT that they themselves participate in.
The Digital Tsunami
Some IT professionals have doubts as to how prepared the department is to keep up with the pace of technology. Not only are employees bringing in (and sometimes using for business) their smartphones and tablets, now wearable tech is starting to infiltrate the workplace. Add in the effects of one of 2014's biggest buzzwords, "Big Data," and it's easy to see how IT workers may feel afraid or threatened.
To cope, the CIO and other key IT players need to be preemptive, by pushing for official policies on things like wearable technology before they become a workplace issue. Such policies should spell out what actions are policy breaches, and what the penalties are. Each employee should receive copies of the policies, and ideally should sign a statement that they have read them. Again, a great IT asset management program helps the IT department stay on top of what employees are using and how they are using it.
It would be nice if the only thing your IT service desk workers had to deal with were technical problems, but that is rarely the case. When you provide your IT team with great IT service management software like Samanage, they not only have the tools they need to resolve end-user tech problems quickly, but they also have extensive IT asset management tools that help account for every piece of hardware and software in your organization. With a great set of tools at their disposal, your IT team can cope effectively with technical problems, and help keep non-technical problems (like illegal software installs) to a minimum.
Photo Credits: stockimages / freedigitalphotos.net, franky242 / freedigitalphotos.net
About Greg Ghia
Read more articles by Greg
---